VMware - VMware vRealize Automation: Install, Configure, Manage (VRAICM) [V7.6]

Experienced system administrators and system integrators responsible for designing and implementing vRealize Automation
By the end of the course, you should be able to meet the following objectives:

- Describe the vRealize Automation architecture and use cases in cloud environments
- Install and configure vRealize Automation
- Manage vRealize Automation entities on VMware and third-party virtual and cloud infrastructures
- Configure and manage catalogs, containers, and blueprints
- Configure and manage business groups and reservations for compute resources
- Use the self-service portal to request and manage machines in accordance with vRealize Automation approval and governance policies
- Use customize properties and property groups in blueprints
- Develop and use custom forms
- Manage and monitor machines and resource reclamation
- Configure and manage event broker subscriptions
- Understand vRealize Automation extensibility and workflows
- Use vRealize Automation to deploy and manage containers
- Integrate vRealize Automation with third-party products
Course Introduction
- Introductions and course logistics
- Course objectives
vRealize Automation Overview and Architecture
- Explain the role of vRealize Automation
- Describe where vRealize Automation fits in the VMware product stack
- Identify the components of a vRealize Automation simple deployment
- Identify the components of a vRealize Automation enterprise deployment
- Identify the component design options for vRealize Automation
- Explain the concepts of vRealize Automation administration and self-service provisioning
- Identify how vRealize Automation integrates with other VMware products
vRealize Automation Installation
- Identify the prerequisites for installation
- Describe the differences between a minimal deployment and an enterprise deployment
- Describe the steps to install vRealize Automation using minimal deployment
- Describe the steps to install vRealize Automation using VMware vRealize® Suite Lifecycle Manager™
vRealize Automation Tenancy
- Describe multitenancy
- Create tenants
Authentication and Authorization
- Identify the authentication methods available in vRealize Automation
- Describe identity management in vRealize Automation
- Identify the appropriate role for different tasks in vRealize Automation
vRealize Automation Infrastructure Configuration
- Configure vRealize Automation endpoints
- Create Fabric Groups
- Create Business Groups
- Create Network Profiles
- Create and manage Reservations for compute resources
- Create Reservation Policies
Blueprints and Catalog Management
- Define blueprints
- Identify the process and options for configuring a blueprint
- Create a blueprint with a single virtual machine
- Create a multitiered virtual application
- Identify the role of the service catalog
- Define catalog items
- Use entitlements to manage catalog items
- Define Cloudclient
- Export blueprints using Cloudclient
Software Provisioning
- Define software components
- Design software components and application blueprints
- Deploy an application blueprint from the service catalog
Custom Resources and the Property Dictionary
- Use custom properties to modify the provisioning process
- Use property groups to group sets of custom properties
- Use the property dictionary to modify the provisioning process
- Use component profiles in the creation and deployment of blueprints
Custom Forms
- Describe the benefits of using custom forms
- Use the custom Form Editor
- Define constraints
- Define read-only fields
- Use vRealize Orchestrator actions in custom forms
Integrating VMware NSX
- Integrate vRealize Automation and VMware NSX
- Use VMware NSX elements in vRealize Automation blueprints
Extensibility
- Introduction to Extensibility
- Describe the Event Broker
- Describe the master workflow
- Create an XaaS blueprint
Approval Policies
- Identify roles involved in creating approval policies
- Identify approval policy levels
- Identify approval phases
- Create and apply approval policies for catalog items
Monitoring and Reclamation
- Identify how to monitor resource use
- Demonstrate how to reclaim resources
- Demonstrate how to manage machine leases
- Monitor system events
- Create a vRealize Automation system health check test
- Create a vRealize Orchestrator system health check test
vRealize Automation Integration with Containers
- Describe Containers
- Describe how Docker and Kubernetes can manage containers
- Describe Harbor
- Describe vSphere Integrated Containers
vRealize Automation Integration with vRealize Suite
- Describe the use cases and benefits of using vRealize Lifecycle Manager to manage a vRealize Automation deployment
- Describe VMware vRealize® Business™ for Cloud concepts
- Use vRealize Business for Cloud to manage cost
- Describe vRealize Operations Dashboard integration with vRealize Automation
- Describe dashboard features related to deployments
- Describe dashboard features related to machines
vRealize Automation Integration with External Systems
- Describe how vRealize Automation can be integrated with external systems including Amazon endpoints, vCloud on AWS, Azure endpoints, Google Cloud Platform endpoints, Ansible Tower integration, ServiceNow integration, and Puppet

Möchten Sie mehr über diese Weiterbildung erfahren?
Zielgruppe / Voraussetzungen
This course requires completion of one of the following courses:
- VMware vSphere: Install, Configure, Manage (VICM)
- VMware vSphere: Fast Track (VVFT)

Experience with working at the command line is helpful.

This course requires that a student be able to perform the following tasks with no assistance or guidance before enrolling in this course:
- Create VMware vCenter Server® objects, such as data centers and folders
- Create a virtual machine using a wizard or a template
- Modify a virtual machine's hardware
- Migrate a virtual machine with VMware vSphere® vMotion®
- Migrate a virtual machine with VMware vSphere® Storage vMotion®
- Configure and manage a vSphere DRS cluster with resource pools.
- Configure and manage a VMware vSphere® High Availability cluster.
- If you cannot perform all of these tasks, VMware recommends that you complete one of the prerequisite courses before enrolling in VMware vRealize Automation: Install, Configure, Manage.

Informationsanfrage – kostenlos & unverbindlich
SanData IT-Trainingszentrum GmbH - Über uns
SanData IT Trainingszentrum - über uns
Der zuverlässigste Weg zum umfassenden Know-how ist das Training. Das zeigt die Erfahrung seit unserem Gründungsjahr 1994. In unseren Seminaren geben wir das Wissen für die erfolgreiche Anwendung moderner IT-Software in einem professionellen und angenehmen Umfeld an Sie weiter. Unsere Kunden schätzen unsere Zuverlässigkeit. Die kompetente Wissensvermittlung umfasst mit mehr als 500 verschiedenen Seminaren die Office-Anwendungen, anspruchsvolle Programmiertechnik sowie die Administration von High-End-Systemen aller namenhaften Hersteller und Schnittstellenthemen. Das zusammen ergibt eines der umfangsreichsten Trainingsangebote in ganz Deutschland.
Unser Trainingskonzept - dynamisch wie Ihr Tätigkeitsfeld!
Vom Einsteigerseminar bis zum technischen Kurs für System-Administratoren und-Entwickler profitieren unsere Kunden von unseren bedarfsgerecht entwickelten Trainingskonzepten: aufeinander abgestimmte Ausbildungsstufen und variable Seminarzeiten und -formen sind ebenso Vorteile.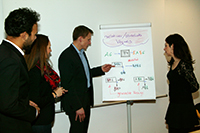 Ihre Vorteile:
• Durchführungsgarantie auch bei einem Teilnehmer
• Zuverlässigkeit in Ihrer Terminplanung
• Bundesweite Seminarorganisation aus einer Hand (23 Standorte)
• Individuelle Inhouse Seminare
• Und vieles mehr
Hier können Sie sich den SanData-Seminarkatalog herunterladen
Kontaktinformation SanData IT-Trainingszentrum GmbH
SanData IT-Trainingszentrum GmbH

Schreiben Sie die erste Bewertung!


Um Informationen von dem Anbieter zu "VMware - VMware vRealize Automation: Install, Configure, Manage (VRAICM) [V7.6]" anzufordern, füllen Sie bitte die Felder unten aus:
Das könnte Sie auch interessieren
Betriebssysteme & Netzwerke
Ihnen fehlt das nötige Fachwissen?
Ob Microsoft Windows, Linux, UNIX oder andere Betriebssysteme – bei COMCAVE finden Sie genau den richtigen Bildungsweg.
Diese Kurse könnten Ihnen auch gefallen...