Bewerbungsfrist: 15.11.2019
Starttermine
Stockholm
27.01.2020 09:00
495.000 SEK
SSE MBA Executive Format

SSE MBA Executive Format
Live learning pedagogy, emphasis on sustainability and electives in Innovation & Entrepreneurship or Financial Management. This is an Executive MBA from Sweden. One of the most innovative countries in the world and birthplace of companies like IKEA, H&M, Ericsson, Spotify, Volvo, Skype and Klarna.
The SSE MBA is an 18 months long advanced general management program for high-caliber working professionals, delivered part-time, enabling you to continue working while pursuing your degree. The program stands for real learning, broadened perspectives and professional development with impact. The academic foundation combined with the MBALive® pedagogy guarantee that your new knowledge will be directly applicable in your organization. The overall purpose and goal of the program is to prepare you for building, developing and leading organizations.
Stockholm School of Economics
Stockholm School of Economics (SSE) is Sweden's oldest private university. It was founded in 1909 by representatives from the Swedish business community. The school has maintained its close ties with the business community ever since and among the school's Corporate Partners you find some of the world's leading companies such as H&M, Ericsson, ABB, Scania and Sandvik.
If you want a relevant MBA anchored in a strong research base, innovative pedagogy and close ties to Swedish and international industry, you'll see that SSE MBA is something for you.
SSE MBA at a Glance
the only FT ranked business school in Sweden
accredited by EQUIS
personal and diverse
emphasis on sustainability
real Live cases and pedagogy
ten intensive modules over eighteen months
extensive self-studies in between modules
electives within Financial Management or Innovation & Entrepreneurship
based in Stockholm, Sweden
includes international field trips
conducted in English
.Request more information about the SSE MBA Executive Format at Stockholm School of Economics.
Warum Stockholm School of Economics?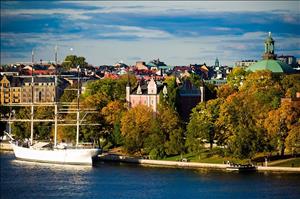 Why choose SSE MBA, Stockholm and Sweden?
High quality research and teaching
Strong connection with business
MBALive® pedagogy
Sustainability
Diverse network
Green city
Stockholm creative hub
SSE is ranked by Financial Times as the number one business school in the Nordic and Baltic countries. The school is known for its high quality research, teaching, professors and students, and SSE graduates hold, and will continue to assume senior leadership positions within Swedish and international organizations. In Sweden business has always been international business, as any list of multinational brands will attest.
As being the number one business school in Sweden we attract the very best participants for our MBA program. Participants with a diverse background considering both age, nationality, industry and position. Here you will build a strong and interesting network that will last for a lifetime.
Stockholm is known as one of the most open and beautiful cities in the world, and you are surrounded by water and green areas. At the same time SSE is situated in the city center, and you are close to culture, pubs, restaurants and clubs.
Stockholm, perhaps thanks to its moderate size, is a creative hub where innovation and smart business thrives. SSE contributes with our SSE Business Lab, a world class business incubator.
Swedes are well known for our informal management thinking and team problem solving nature. This is an advantage when applying our MBALive® pedagogy to live projects and cases in the participants' organizations. It enables you to go deeper and truly implement real changes in real organizations.
Already in the first program week we start the course in sustainability. For us it is imperative that sustainability is connected to all business topics, such as strategy, operations, accounting, finance and marketing. Consequently, we have chosen to integrate sustainability across the curriculum.
Akkreditierung
EQUIS - a respected seal of quality
Since 1999, as the first university in Sweden, we have been accredited by the European Quality Improvement System (EQUIS). This means that all our programs and research have demonstrated excellence at an international level.
EQUIS is an international system for quality assurance of higher education in business, aiming to raise the standard of management education worldwide. EQUIS is governed by the European Foundation for Management Development (EFMD), which is an independent not-for-profit network organization open to companies as well as universities. SSE was one of the founders of EFMD.
SSE is also the Swedish member institution of CEMS (The Global Alliance in Management Education) and PIM (Partnership in International Management).
Teilnehmerprofil
Participant profile
The successful Executive MBA applicant will have a substantial experience from business, probably as a manager or in a leading position. He or she will have the energy, drive and capacity to reach higher and do more.
Participants in the SSE MBA represent a broad range of academic and cultural backgrounds, industries and positions. They have extensive international experience, both from their studies and their professional life. Many have a non-Swedish background. A carefully selected group of participants contributes to high quality discussions in class and of course to learning.
Recent statistics:
53 participants
average age, 39
age span 28-52
average years of work experience, 13
international background, 47%
19 nationalities
women, 40%
Request more information about the SSE MBA Executive Format at Stockholm School of Economics here.
Studieninhalte
The goal of the SSE MBA program is not to offer a prefabricted "MBA-in-a-box" but rather to provide the best and most challenging MBA possible. Pedagogically, SSE MBA provides a solid theoretical base combined with practical experience and skills training. Reflection is an integral and critical part of the learning process.
The aim is to combine knowledge, experience and excellent learning processes. Thus our professors bring not only academic knowledge, but also information and knowledge from research carried our in close conjunction with industry.
Curriculum
The Business Context: Corporations in Global Society, Economics, Business Law, Sustainability Management
Accounting and Finance: Financial Accounting and Analysis, Managerial Accounting, Investments and Capital MArkets, Corporate Finance
Value Creation: Organizational Theory and Management, Strategic Management, Marketing, Operations
The Global Context: Doing Business in a Global Context, one of our international study trips
Capstone: tying everything together and presentations of the bigger Live projects with sponsors invited.
Electives: Financial Management or Innovation & Entrepreneurship
MBALive® Lehrmethoden
The SSE MBA Executive Format combines research based theory with practice. All participants carry out a series of live projects, both small and big, in organizations of their choice. These are projects that create measurable value and change. After the first module you will already have new ideas and tools to use and implement at work.
ChangeLive is the longest MBALive® project. Participants work in pairs to pursue strategic change within the sponsoring organization. The change should constitute a real improvement in the organization. It's all about implementing, not just suggesting a change on paper. The ChangeLive project is also followed up and evaluated a few months after implementation.
Bewerbung und Zulassung
To be admitted to the SSE MBA program you must hold a Bachelor's or Master's degree and have a minimum of five years relevant working experience. As the program is given in English, a high level of English proficiency is needed, and a TOEFL or IELTS score is required to prove this.
The selection process will take into account the applicant's experience, education, test results and position within the organization. Individual qualifications and group composition are of great importance.
Based on your application, you will be called for an interview and test. Candidates are interviewed in depth regarding their current organizational and professional responsabilities and situation, and asked to reflect on future plans and ambitions.
The program starts in January each year. 10 intensive in-class modules are combined with distance learning and extensive self-studies over 18 months.
Application deadlines are May 15, September 15 and November 15 the year before. Application is made on-line.
If you want to know more you are welcome to register for an information session or book a personal meeting for advice on hhs.se/mba.
Investment
The SSE MBA program fee is SEK 495.000 (excl. of VAT and subject to change) and includes literature and teaching material. Costs related to travel, food, accommodation or other boarding expenses are not included.
Videopräsentation
A short movie about the SSE MBA Executive Format at Stockholm School of Economics and how it helps you to develop your management, business and leadership skills as well as how your company can benefit from it.
Participants, nominators, alumni and Associate Professors share their views of the SSE MBA Executive Format.
Abschluss und Diplom

When you have successfully completed SSE MBA Executive Format you will receive your MBA degree at Stockholm School of Economics. The graduation ceremony is held in the school's auditorium and is followed by a mingle together with your closest family. In the evening there will be a graduation dinner with the President of the school, faculty members, the SSE MBA team and your spouse. After the graduation you will be a part of the Alumni network at Stockholm School of Economics.
Informationsanfrage – kostenlos & unverbindlich
Stockholm School of Economics
Kontaktinformation Stockholm School of Economics
Stockholm School of Economics
Bewertungen von Teilnehmern
Mein Erfahrung des Kurses 2013/2014 waren einfach nur gut. Die inhaltliche Stärke des Programms liegt in den beiden Modulen Finance und Organization. Hier ist die Lehre einfach top. Auch in den anderen Modulen stimmt die Mischung zwischen akademischer Basis und Praxis. Der Grund: Die Studenten sind stets angehalten, voneinander zu lernen. Gerade...
Mehr anzeigen
Um Informationen von dem Anbieter zu "SSE MBA Executive Format" anzufordern, füllen Sie bitte die Felder unten aus:
kursfinder.de-Loginbereich
Kursbewertung
auf Basis von 1 Bewertungen
Das könnte Sie auch interessieren
Wie gelingt das Masterstudium neben dem Beruf?
UNIKIMS | Management School der Universität Kassel
Studierende der UNIKIMS berichten aus ihrer Erfahrung mit dem berufsbegleitenden, universitären Masterstudium. >> Weiterlesen
Interview mit Dr. Sarah Schmitz
Dr. Sarah Schmitz ist Executive MBA-Anwärterin an der SSE. Im Interview mit der kursfinder-Redaktion erzählt sie, warum sie sich für das Studium entschieden hat, und welche Neuerungen der Schwerpunkt "Innovation and Entrepreneurship" in ihr Leben bringt. Klicken Sie auf "Weiterlesen" und erfahren Sie mehr!
Weiterlesen
Louise Croneberg-Jones ist die Gewinnerin
Sie freut sich darauf, durch die Kombination aus Wissenschaft und IT neue Wege zur Lösung des weltweiten Wasserproblems zu finden: Louise Croneberg-Jones, Spezialistin für Wasserressourcen bei der Weltbank, ist die Gewinnerin des diesjährigen MBA-Stipendiums an der Stockholm School of Economics (SSE).
Weiterlesen
Über kursfinder.de
kursfinder unterstützt Sie dabei, die passende Weiterbildung zu finden. Filtern Sie 20.000 Seminare, Schulungen und weiterbildende Studiengänge nach Ihren Bedürfnissen und lassen Sie sich unverbindlich von unseren Bildungspartnern beraten. Mehr über kursfinder erfahren Sie hier.